April 4th, 2019
So why do you need to fill out a 'sleep questionnaire' in the dental office? In the last few years the American Medical Association has looked to the dental profession to begin screening for sleep disordered breathing conditions including sleep apnea. Dentists are perfectly poised to screen for these disorders, and since a dentist is more likely to find a sleep breathing disorder earlier, we can prevent a lot of systemic damage that might occur if the condition is allowed to worsen.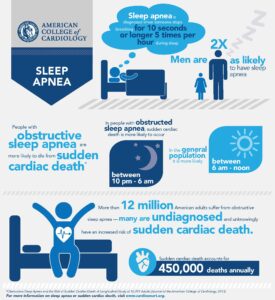 What are the consequences of a sleep breathing disorder or Obstructive Sleep Apnea (OSA)? The list is actually quite long:
• Stroke: Men with moderate to severe OSA are 3x more likely to have a stroke
• Hypertension: OSA is the leading cause of secondary hypertension
• Coronary Artery Disease
• Cardiac Arrhythmias: 4x more likely to have atrial fibrillation
• Congestive Heart Failure: Moderate OSA can increase the mortality of heart failure
• Heart Disease
• Sudden Death: 30% higher risk of heart attack or premature death
• Diabetes Type II: 58% of Type II diabetics will have OSA
• Obesity: Approx. 80% of OSA patients weigh 130% or more of their ideal body weight
• GERD
• Sexual Dysfunction: Loss of libido and impotence
• Frequent Urination at Might: Also contributes to interrupted sleep
• Mood Disturbances: Leads to depression and anxiety
• Daytime Sleepiness: Slower reaction times, reduced efficiency, unable to concentrate, increase risk of accidents
What are your options for treating a sleep breathing disorder? First, it is very important to be accurately diagnosed. Many people are afraid of being told they must go sleep in a lab, but there are home sleep study options. If you have a severe sleep breathing disorder, you may still need to have a lab sleep test done to accurately diagnose you. Once you are diagnosed, then you will be given your options for treatment. While many people have had success with CPAP machines to help them breathe at night, there are many who can't tolerate the CPAP while they sleep. Oral sleep appliances might be an option for you.